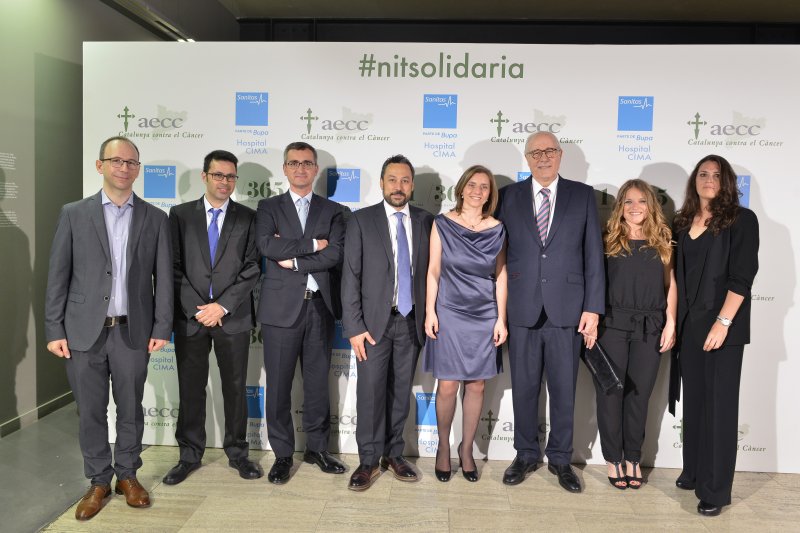 1 JUNE 2017: AECC FUNDRAISING CAMPAIGN.
The Spanish Cancer Support Association (AECC) launches its traditional fundraising campaign, which aims to raise funds for cancer research and to run free programmes and services for patients and their families.
This year Hospital CIMA is again collaborating with this collection to support and promote cancer research and to explore new forms of diagnosis and treatment. The hospital has the Early Diagnosis of Women's Diseases Unit, a new unit dedicated to early detection of any type of cancer and to studying other common diseases in women, in addition to other s.
If you would like to take part in the fund raising campaign, you can get more information on (+34) 932 002 099.
Hospital CIMA and AECC-Catalunya promote cancer research
Hospital CIMA and the Spanish Cancer Support Association (AECC)-Catalunya, which have partnered in previous years, have signed a collaboration agreement to promote cancer research through the sponsorship of Nit Solidària 1/365, which aims to promote and fund biomedical and social research projects in order to boost advances in cancer diagnosis and treatment in key areas. During this charity gala 7 research s were awarded:
Project 1: "Coste-efectividad e impacto presupuestario de tres estrategias preventivas en cáncer de pulmón" (Cost-effectiveness and budget impact of three lung cancer prevention strategies). Dr Marcela Fu Balboa. Bellvitge Biomedical Research Institute - Catalan Institute of Oncology
Project 2: "Caracterización del daño axonal en la neuropatía por quimioterapia: perfil temporal de la degeneración y regeneración axonal y su repercusión en los diferentes sistemas funcionales" (Characterisation of the axonal damage to the neuropathy by chemotherapy: timeline of axonal degeneration and regeneration and its repercussions on the different body systems). Dr Jordi Casanova Mollá. Fundació Clínic per a la Recerca Biomèdica.
Project 3: "Reversión del estroma activado del carcinoma escamoso de pulmón mediante la inhibición de SMAD2-YAP1 en fibroblastos" (Reversal of activated stroma of lung squamous cell carcinoma via SMAD2-YAP1 inhibition in fibroblasts). Dr Jordi Alcaraz Casademunt. Faculty of Medicine, University of Barcelona.
Project 4: "Microenvironment contribution to response to chemotherapy in Colorectal Cancer." Dr. Alexandre Calon. Institut Hospital del Mar d'investigacions Mèdiques (IMIM)
Project 5: "Desarrollo de un test basado en la cuantificación de expresión génica con la plataforma nCounter de NanoString para predecir el tiempo hasta la progresión en pacientes con leucemia linfática crónica" (Development of a test based on quantifying the gene expression with NanoString's nCounter platform to predict the time to progression in patients with chronic lymphatic leukemia). Dr Pau Abrisqueta Costa. Hospital Vall d'Hebron de Barcelona - Fundació Hospital Universitari Vall d'Hebron – Institut de Recerca (VHIR)
Project 6: "El carcinoma escamoso cutáneo invasivo local: nuevas aportaciones terapéuticas abordadas desde una estrategia multidisciplinar" (Local invasive cutaneous squamous carcinoma: new therapeutic contributions addressed from a multidisciplinary strategy). Dr Silvia Gil Duran. Institut I3PT Corporació Sanitària Parc Taulí (Hospital Parc Taulí)
Project 7: "Comunidades de soporte y grupos de tratamiento psico-oncológico online en Cáncer: ensayo clínico multicéntrico, controlado y randomizado" (Support communities and online psycho-oncology treatment groups in Cancer: multicentric, controlled and random clinical trial). Dr Cristian Ochoa Arnedo. IDIBELL (ICO-Hospital Duran i Reynals)
The collaboration agreement goes even further, as throughout the year Hospital CIMA will organise a series of workshops held by specialised and highly qualified professionals on improving the life of cancer patients, their families and the general public, as well as how to prevent and raise awareness of this disease, creating healthy habits.
On 30th March, Ms Teresa López-Fando, Psycho-oncologist and Coordinator of AECC Barcelona Programmes and Services will hold a workshop on colon cancer in order to improve the life of cancer patients, their families and the general public, as well as how to prevent and raise awareness of this disease, creating healthy habits.
What topics will be addressed?
Healthy habits, our strength to prevent cancer
What a screening programme involves
I have been diagnosed with cancer... what now?
We hope to see you on Thursday 30th March at 7:00 p.m. at Hospital CIMA, in the assembly hall in La Masía.
Please confirm attendance at: infocima@sanitas.es