Sanitas' first hospital in Barcelona with the most advanced technology.
The Hospital CIMA is located on Paseo Manuel Girona, with its main building at number 33 on the junction with calle Eduardo Conde, and the external consultations centre at number 23 next to the church of San Odón.
It consists of a main building of 11,000 square metres and an external consultations centre. It has an emergency entrance, ICU, 80 rooms, and s the services of 150 doctors.

HOSPITAL STRUCTURE
The hospital is divided into 4 buildings. A 6-floor main building and two distinguished structural areas, MONTAÑA and MAR (Mountain and Sea) containing 4 wings:
Consultations Area
Inpatients Area
A&E Department
Surgical Wing
A satellite building of the hospital, called "La Masía", a 3-floor external consultations centre called "San Odón". And a Diagnostic Imaging centre.
The main building has two access points from the outside.
The main entrance
Accident and Emergency
The circulation of people inside the building is through two main corridors.
The latter is reserved for the hospital staff and patients whose movement within the hospital is its direct responsibility.
The hospital has a car park with 306 spaces for cars.
In addition, our patients have the Centre Diagnòstic L'Eixample, affiliated with Hospital Sanitas CIMA, which offers patients the opportunity to have diagnostic tests in the heart of Barcelona, at calle Balmes, 67.
DISTRIBUTION OF THE DEPARTMENTS OF THE HOSPITAL
The Hospital Sanitas CIMA is distributed over 3 adjacent but independent buildings.
The distribution of its departments is as follows:
FLOOR -1
General A&E
Paediatric A&E
Radiology (access opposite the La Masía building)
Female Pathology Unit (in Radiology)
Dentistry and Oral Surgery Unit
Surgical Wing
GROUND FLOOR
Main reception/Admissions
Client Service
Sanitas Insurance Office
Cafeteria and restaurant
Clinical Analysis Laboratory (access via calle Eduardo Conde)
Paediatric Consultations (access via calle Eduardo Conde)
FLOOR 1:
External consultations
Ophthalmology Unit
Check-up Unit
Urology Unit
FLOOR 2:
Obstetrics and Neonatology Unit
Digestive endoscopy
Outpatient facility
Major Outpatient Surgery Area
FLOOR 3:
Rooms 301-332
Minor Outpatient Surgery Area
FLOOR 4:
Rooms 401-418
ICU
Trauma Consultations
Gynaecology and Obstetrics Consultations
FLOOR 5:
FLOOR 6:
MAPS OF THE HOSPITAL CIMA MAIN BUILDING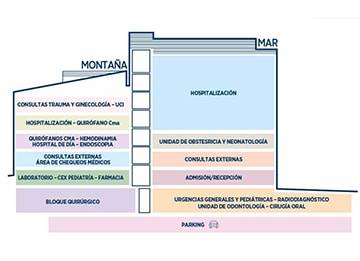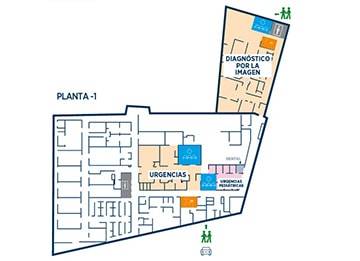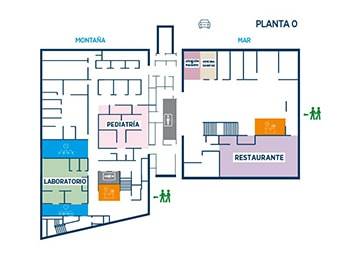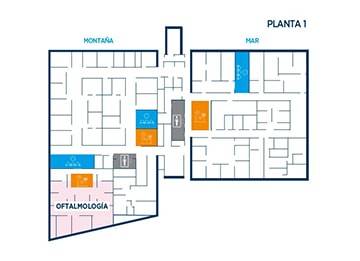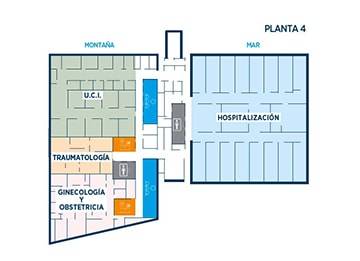 PUBLIC TRANSPORT DIRECTIONS
The Hospital Sanitas CIMA is located at number 33 on Paseo Manuel Girona, in Barcelona. The district has excellent connections to the rest of the city via the extensive public transport system, and is also easily accessible from outside. The Hospital Sanitas CIMA is very close to Avenida Diagonal and Avenida de Pedralbes.
To reach it, you have the:
Metro: to María Cristina (L3 Green).
Bus: Line 6, 34, V3.
Car: Junction 9, Ronda de Dalt: Sarrià.
Tram: to Maria Cristina.
FGC: L6,S1,S2,S55 Sarrià. L8 Reina Elisenda
Furthermore, the main building has public parking.
MAPS SHOWING THE LOCATION OF THE HOSPITAL CIMA CENTRES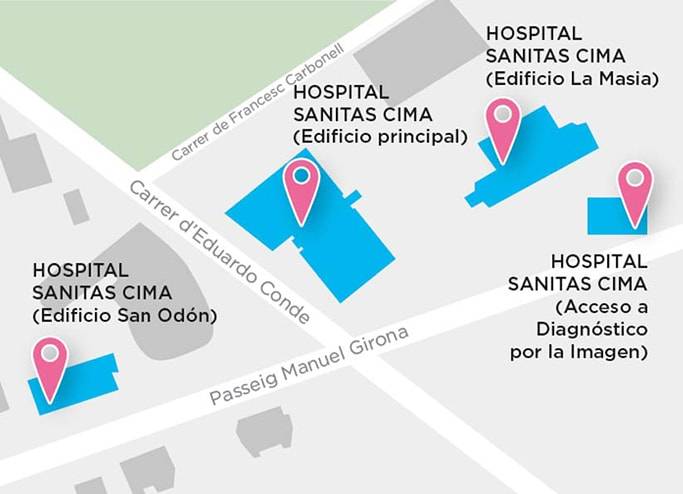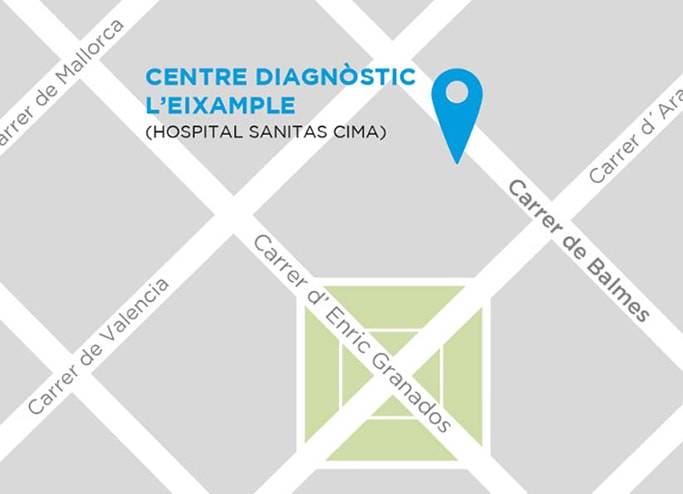 FOR MORE INFORMATION:
HOSPITAL CIMA • Pg Manuel Girona, 33 • 08034 • Barcelona
EDIFICIO SAN ODÓN • Pg Manuel Girona, 23 • 08034 • Barcelona
EDIFICIO LA MASÍA • Pg Manuel Girona, 33 • 08034 • Barcelona
CENTRO DE DIAGNÓSTICO DE L'EIXAMPLE (affiliated with Hospital Sanitas CIMA). Carrer de Balmes 67 • 08007 • Barcelona